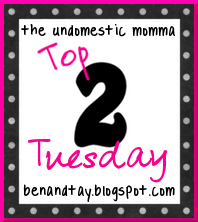 Top 2 Tuesday is back.
This week the topic is top 2 favorite items under $15.
1. A good t-shirt. I am such a big t-shirt and blue jeans girl! I practically live in t-shirts every day. My favorite type is probably a white, v-neck t-shirt from Old Navy. They sell for about $8.00.
2. A cute pair of sunglasses. They are essential and get used daily. These sell for just under $6.00.